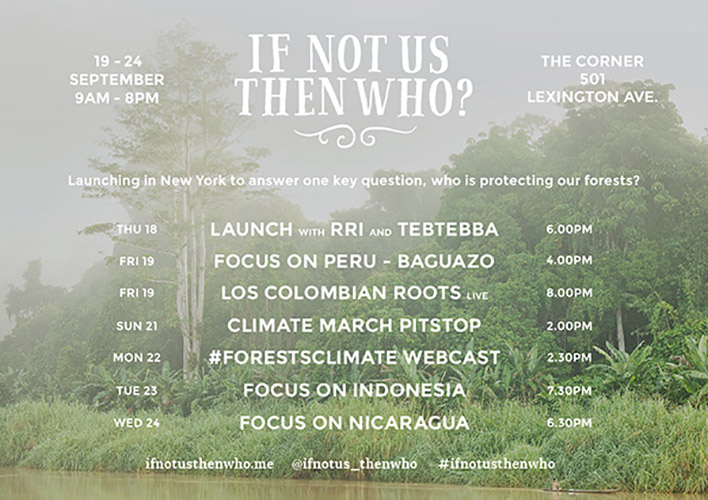 ** MEDIA ADVISORY–FILM AND PHOTO EXHIBITION LAUNCH EVENT IN NEW YORK –THURSDAY – 18 September 6pm **
Registration required, please contact: Communications & Logistics – Sophia Cheng –[email protected]
On Eve of Climate Summit, Film Exhibition Launches to Address Critical Question: Who is Protecting Our Forests?
This week award-winning British Handcrafted Films team, will bring to the corner of Lexington and 59th Street a world that could not be more different from the streets of Manhattan.
Visitors to the storefront will witness the setbacks and successes of indigenous and traditional peoples who live to protect the endangered tropical forests of the world, from Indonesia to Brazil and Nicaragua. Their stories will be featured in the exhibition "If Not Us Then Who?" at the Roger Smith Hotel from 19 September through 24 September.
Two short films will be premiered and two new reports will be launched. Written by the Rights and Resources Initiative and Tebtebba, the reports will unveil new research on land rights, extractive industries and social conflict globally.
Where: The Corner, Roger Smith Hotel, 501 Lexington Ave, New York, NY 10017
When: 6 – 9pm Thursday, September 18, 2014
Who: Paul Redman, Director, Handcrafted Films
Bryson Ogden, Private Sector Analyst, Rights and Resources Initiative
For more information and a taster of the exhibition, please visit ifnotusthenwho.me. For more information on the new reports, please contact Dan Klotz. If you would like to use the exhibition's visual material for other purposes, please contact Sophia Cheng.
The launch night is the first in a series of events taking place at the exhibition throughout Climate Week NYC —see the full listing below
#####
Notes to Editor
If Not Us Then Who is managed by Handcrafted Films and supported by the Ford Foundation.
A full version of www.ifnotusthenwho.me website including the four new films will be launched on the 18 September
See our associated Press Release for more information. Live on Monday 15 September  – 00.00 EST
Further events include;
Friday 19 – 4pm – Focus on Peru and Baguazo –  It has been 5 years since a peaceful protest site into a national tragedy near the Peruvian town of Bagua that ended in 34 people dead. This year the government prosecutors have accused high-profile indigenous leaders of inciting their people to violence. Dejusticia share stories on this dubious trial case that 'many people sent to jail for unproven crimes'. Carlos Andrés Baquero will be available for questions during this session. Films with English subtitles
Friday 19 – 7pm – Los Colombian Roots – Celebrating world music, members of MAKU Soundsystem perform a special acoustic set in this unique space.
Sunday 21 – 2pm – Climate March pit stop – the Peoples Climate March starts at 11.30am at Central Park West. Join us after the march and share your experiences with us. We will be open to the public to capture images and video and introducing people to our project.
Monday 22 – 2.30pm – #forestsclimate webcast – The Ford Foundation, together with the Climate and Land Use Alliance, host a rare high-level meeting among major corporate, indigenous and government leaders for a frank conversation about what it will take to slow deforestation, reduce conflict over forests and stem global climate change. We will be showing the live webcast.
Tuesday 23 – 7.30pm – Focus on Indonesia – We will be joined by our partners, Indigenous Peoples Alliance of the Archipelago (AMAN), Rukka Sombolinggi will be our guest speaker. We will screen short films from this region followed by a discussion panel.
Wednesday 24 – 6.30pm – Focus on Nicaragua – We will be screening "Imágenes de mi Territorio Rama y Kriol" from our partners IBIS as well as a short film from the If Not Us Then Who project. The films will be followed by an expert panel. Please note the film is in Spanish. Sinopsis: Ramas y Krioles se unen para compartir a través de imágenes sus tradiciones, sus formas de gobierno, su belleza natural y de singular manera, la lucha que viven día a día por preservar sus tierras y su patrimonio cultural.
Full details including registration can be found here.
A 12 minute walk from the UN building, it will be a space that promotes intellectual and visual content examining indigenous peoples fight to protect forests. A meeting space where journalists, Indigenous Peoples, activists and the public can relax, learn and explore.
For social media links; @ifnotus_thenwho, Facebook page  and Instagram– we are using #ifnotusthenwho #siapaLagiKalauBukanKita and #sinosomosnostrosentoncesquien