On Sunday the 19th March, the Fifth Indigenous Peoples Archipelago Congress (KMAN) created a new history in the struggle of the indigenous peoples of the archipelago. Rukka Sombolinggi, an indigenous woman from Tana Toraja, South Sulawesi, was elected as Secretary General of The Indigenous Peoples Alliance of the Archipelago (AMAN) for the period of 2017-2022. Rukka replaced Abdon Nababan, who officiated AMAN as Secretary General for 10 years.
Before the selection process began, the entire indigenous community and membership of AMAN, deliberated in order to propose names of candidates. There were 5 candidates who passed the verification and were willing to become Secretary General of AMAN. They were Rukka Sombolinggi, Mina Setra, Eustobio Renggi, Arifin Monang Saleh and Simpun Sampurna.
During the election process on Sunday evening, each candidate conveyed their visions and missions in front of thousands of indigenous people who were present at the congress. Monang was one of the candidate who emphasized strengthening the economic organization. "We must harness the economic potential of indigenous people so that we do not become beggars" Monang said.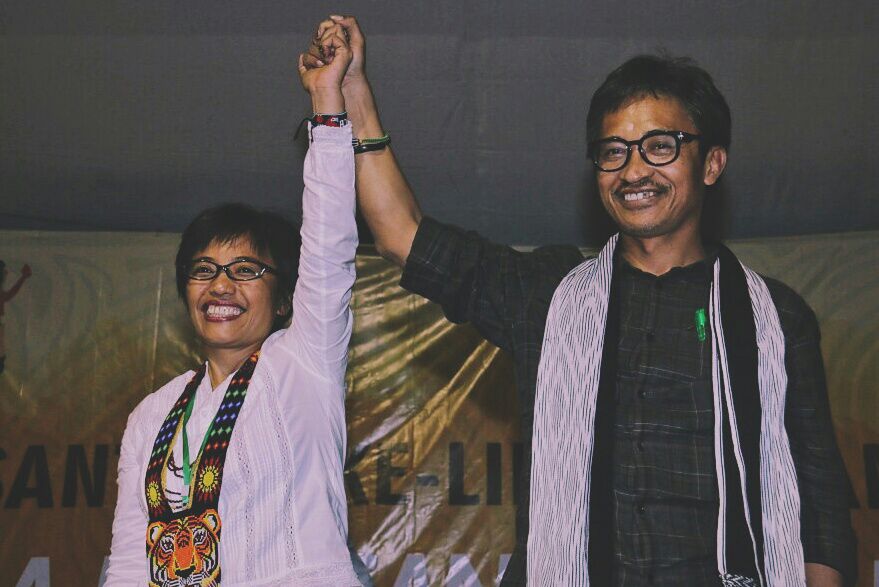 Another candidate, Mina, affirmed the principle of AMAN. "I have a dream like Abdon Nababan, creating indigenous peoples who are able to become economically independent, politically sovereign and culturally dignified" she said.
Meanwhile, Rukka also explained policies related to indigenous people. "In the future, when the Law on The Protection and Recognition of Indigenous Peoples' Rights has been ratified, we will fight with our own shadow. Companies will hire some indigenous peoples and oppose us" she mentioned specifically.
After the candidates presented their visions and missions, they held discussions and deliberated to choose one of them to become Secretary General of AMAN. The result was that the four candidates supported Rukka Sombolinggi as the next secretary general of AMAN. Cheers, applause and shouts of victory to the participants enlivened the electoral process. Various traditions and rituals as a form of gratitude were performed.
"The candidates deliberate and agree to support each other in order to develop and strengthen AMAN to become an organization that counts in the future" Mina said.
In her acceptance speech as Secretary General of the Indigenous Peoples Alliance of the Archipelago (AMAN), Rukka stated that AMAN will be better. "I promise that for the next five years, AMAN will still prevail and AMAN's flag will remain fluttering" she said.
Burhanudin