We're excited you have decided to organise a screening of an If Not Us Then Who film.
This page is designed to help you think about your event planning to make sure it's a success.
Getting started
Select a film or two that resonate with you most, or are most relevant to your studies or your passions.
Take a look at our partner films as well, we do not have as much supporting content at this time but can help put you in touch with the right group.
Think about who you would like to show these films to, your family? Your fellow students? Your community? Your work? Consumers? Remember it is often more effective to aim for a smaller but engaged group.
How much time and resources do you have to put into this? You probably are working or studying and organising screenings is not your full time job! Be realistic about the time you can invest in organising a screening, maybe find a friend or colleague to help you.
Do you have a budget? We only have a limited budget to support screenings at this time. It is very possible to host an engaging and effective event with minimal cost but it does take some planning.
Think about what venue or location might be the best place to reach the people you want to target? It could be something as simple as your university hall or your lounge. Or you could approach different community buildings to see if they will host a free screening. Perhaps a library, a local cafe, some restaurants have private rooms you can book. Are there already regular screenings taking place where you could submit the films or theme? Get creative
Here are more tips on screening films in your community, particularly outdoor screenings, from the Independent Cinema Office.
If you would like to get in touch about your screening event ideas please email [email protected] – we can arrange a video chat for a one-to-one discussion about your event.
Suggested films for screening
The indigenous people of Sungai Utik, a Dayak Iban community in West Kalimantan, Indonesia, have maintained a strong traditional connection to their forests despite continuous pressure from logging and palm oil companies intent on taking their land. Their forests remain intact and their traditional values are keeping their community together. If we want to keep […]

Climate Change

educational packs

Indigenous Solutions

The humble babassu palm provides a livelihood for communities of women across North Eastern Brazil. Bread, charcoal, oil and soap are produced from the nut and husk; the surplus is sold on. But production has not always been so peaceful. Babassu: Brazil's Warrior Women tells the story of the hard battle to maintain these communities' […]

Activism

Brazil

educational packs

On 1st September 2014 Edwin Chota and three indigenous Asháninka leaders were murdered while defending their forests. They had been denouncing the increasingly violent illegal loggers operating on their ancestral lands for over a decade with little recognition from the government. Through their widows, family and friends we learn about their ongoing fight for land […]

educational packs

Human Rights Abuses

Participatory-made film

After a seven year battle, the Mayangna community of Awas Tingni won a landmark ruling at the Inter-American Court of Human Rights and demonstrated that international human rights law could protect indigenous peoples, their land and their natural resources. As a result a Demarcation Law was passed in 2003 in Nicaragua to recognise and respect […]

educational packs

Land Rights

Nicaragua
Additional resources to supplement your screening
Resources for teachers who want to explore short film, Hope in more detail: Hope – Video Guide for Students

Indonesia

screening guide resources

Resources for teachers who want to explore short film, Hope in more detail: Hope Indigenous Activism and Climate Change – Lesson Plan

Indonesia

screening guide resources

Resources for teachers who want to explore short film, Brazil's Warrior Women in more detail: Brazil's Warrior Women Video Guide

Brazil

screening guide resources

Resources for teachers who want to explore short film, Brazil's Warrior Women in more detail: Lesson Plan – Power, Privilege, and the Environment – Brazil's Warrior Women – If Not Us Then Who (1)

Brazil

screening guide resources

Download the pack here: https://ifnotusthenwho.me/films/land-right-conflict-indigenous-territory/

educational packs

Nicaragua

screening guide resources

Download the pack here: https://ifnotusthenwho.me/films/indigenous-climate-change-solutions/

educational packs

Indonesia

screening guide resources

Download the pack here: https://ifnotusthenwho.me/films/womens-movement-access-babassu-oil/

Brazil

educational packs

screening guide resources
Now you have a venue
Who can you partner with? A friend to help you organise? A local company to host? The local bakery might supply some snacks? The local newspaper or vlogger could help you promote the event to your community?
Decide the format of your event.
We can provide the film files offline if you require.
Select a theme for your event.
How many films will you screen? How long are they?
Will you host the event? Or invite an expert or activist? Maybe your local Fairtrade group could talk about consumption? Or Amnesty International group about social injustice? If there is good speed internet at your venue we might be able to live stream a team member or partner in, let us know!
Will you have group activities or discussions after each film?
What time of day will you host your event?
Sometimes people like incentives to attend events, you could think about supplying some snacks?
Could you include other green initiatives like recycling or use reusable cups for water instead of bottled water for example?
We usually recommend an event lasting 2 hours.
Send us the details of your event and we will add a blog to the website – let us know why you are hosting an event too! Let us know at [email protected].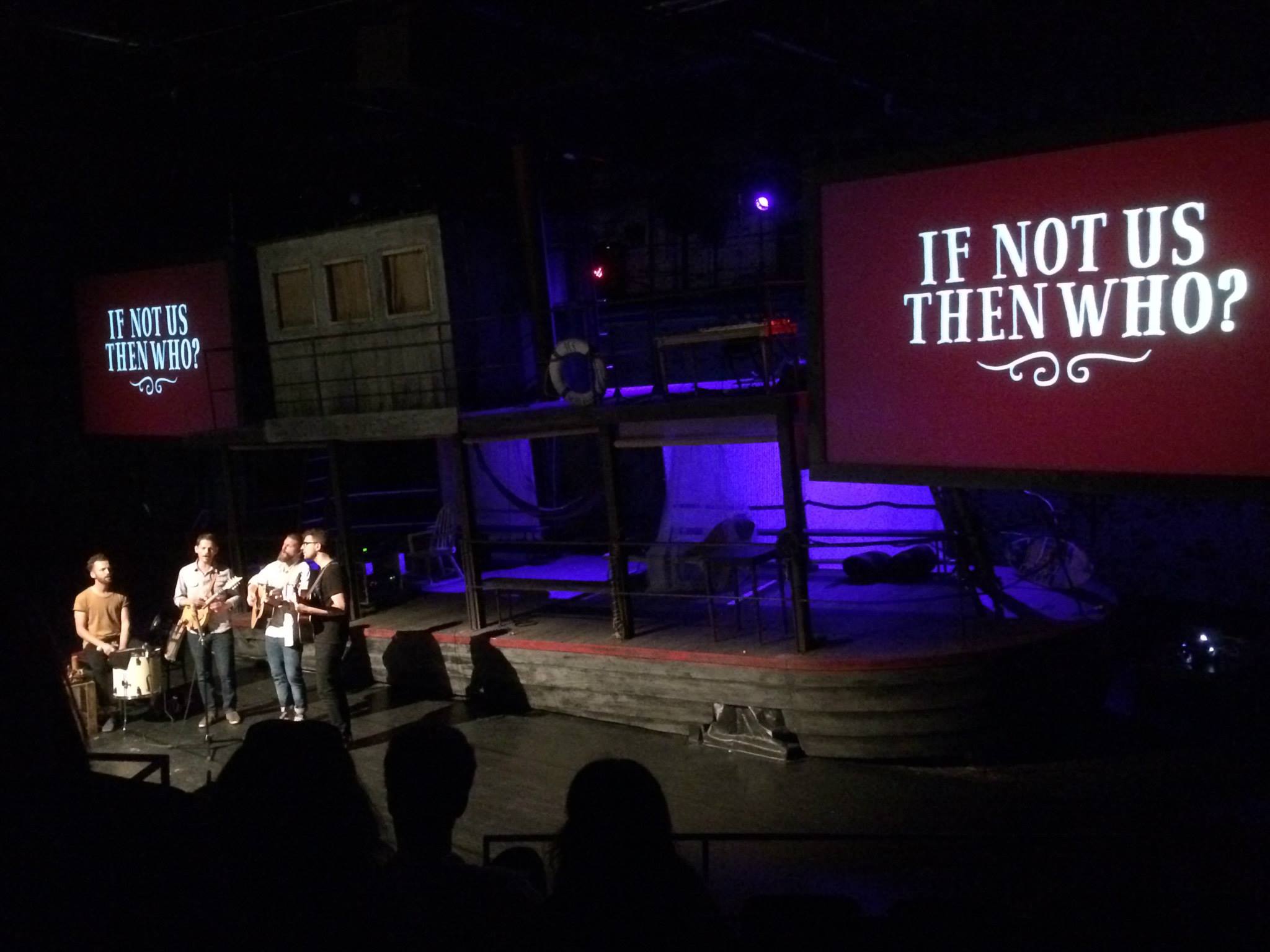 Marketing tips
Tell people about your event – now that you have confirmed all the details, it's time to starting telling people about your event. Allow as much time as possible to do this, this can often be the hardest part!
Create posters for online and print. We have created a series of branded templates with different images you can use to suit your event:
Set up a Facebook event (add us as hosts and we will try and reach people in your area too), share this event and ask your friends to share it too.
Create an Eventbrite page.
Create a Calendar meeting and invite your colleagues – be sure to add a notification reminder!
Reach out to your local newspaper and radio.
Invite local journalists.
Add your event to different online listing websites.
Don't forget good old fashioned email!
Use #ifnotusthenwho in your social media, we'll be sharing it too.
A few days before your event, confirm your logistic details and get an idea of numbers.
On the day, take behind the scenes photos to build a buzz for your event, don't forget to use #ifnotusthenwho. Ask a few friends to come early to help you set up. Ask a friend to be in charge of social media, especially if you are hosting the event yourself.
Collect email addresses at your event and ask if they want to join our mailing list.
Good luck!
Now take a rest. When you have some time, let us know:
How your event went?
How many people attended your event? What were their interests?
Send us your photos.
We would love you to write a short blog post about your event that we can use on the website – our new screening champion!