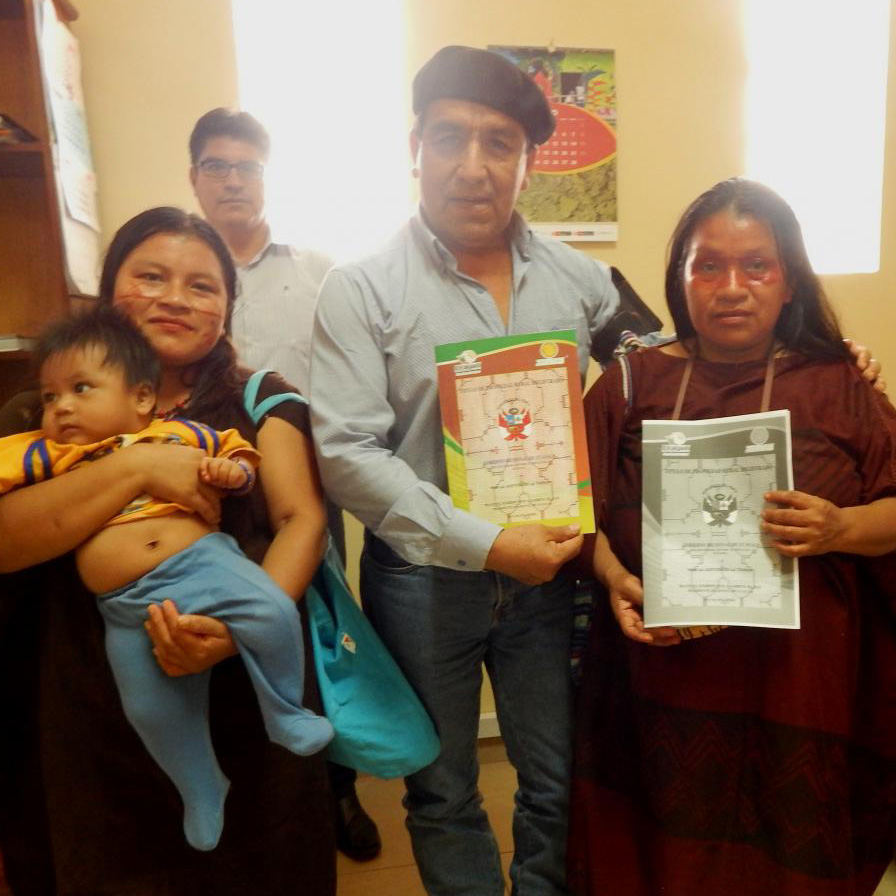 Reposted with permission from Rainforest Foundation US. Photos by Tom Bewick.
The Ashaninka community of Saweto – Alto Tamaya was granted a resolution for an 80,000 hectare land title on December 16th by the Peruvian Ministry of Agriculture, marking a historic milestone for a community that has been fighting for recognition of its ancestral territory for over ten years.
The Resolution still needs to withstand potential opposition, however, and the Ashaninka fear retaliation from illegal loggers.
The four leaders of Saweto – Alto Tamaya were brutally massacred by illegal loggers in early September. The widows of the slain leaders fled from Soweto after the murders, fearing for the safety of their families and community.
A few short hours after receiving Resolution 299 – 2014, the widows boarded a helicopter and returned to Saweto for the first time since early September. They were accompanied on the journey by two representatives of the Ministry of Agriculture, communtiy lawyer Margoth Quispe Anaya, and Tom Bewick from the Rainforest Foundation, US.
The entire community of Saweto gathered around the police helicopter as it landed, squinting to fight off with wind-blown debris helicopter while looking elated to see their friends and family for the first time in months.
"I'm glad to be back," commented Ergilia Rengifo. "But it's also sad. My husband is not here to greet me. But we have work to do."
Indeed, the police helicopter provided the widows only a brief three hours in Saweto to elect a new governing board, review the land title resolution, and then approve it.
The community had been without formal leadership since September, when leaders Edwin Chota, Jorge Rios, Leoncido Quiquisima, and Fransisco Pineda were murdered on their way to an assembly in fellow Ashaninka community Apixtwa, located just across the remote border in Brazil.
As is custom in Ashaninka communities, leaders must be elected by assembly. After a short greeting, they began the process of electing new leaders. By consensus, Ergilia Rengifo was elected president, Jaime Garcia was elected vice president, Karen Shahuiri was elected Secretary, and Diana Rios was elected treasurer. Diana Rios, daughter of slain leader Jorge Rios, recently accepted the Alex Soros Foundation Award for Environmental Activism in New York City on behalf of the families of the slain leaders.
Each elected leader pledged to fight for Saweto and the future of their children, carrying on the legacy of Edwin Chota and Jorge Rios. At times coming to tears, Ergilia Rengifo and her daughter Diana told the assembly how difficult it was to live and travel in Pucallpa and Lima, but that they had to keep fighting.
"The loggers and the government didn't want to give us our title. They ignore us. We don't have anything. All we can do is fight. Thank you so much for giving me this responsibility. I will always be fighting for Saweto," said an emotional Diana Rios.
Following the elections, representatives from the Ministry of Agriculture read out the new Resolution, which grants the community of Saweto nearly 80,000 hectares of tropical forest, eliminating the overlapping logging concessions. The Resolution complies with the community's demand for 80,000 hectares – an area far larger than many "native community" titles in Peru, which is key, being that it establishes a title for an entire indigenous territory. Hopefully this will set an important prcedent for thousands of othere Peruvian indigenous communities still seeking title. Each of the members of the new governing board signed the land title Resolution, formally endorsing it. Until recently, Saweto didn't have a school and many community members are illiterate, and therefore they had to sign with their fingerprint.
"Before, the loggers said that they could do whatever they wanted in our territory because we didn't have a title. Now we will have a title," exclaimed Rengifo to the assembly.
There is one critical step left in the process of obtaining the title.  Martin Antonio Mera Delgado, an attorney with the Ministry of Agriculture, explained that, according to Peruvian law, the government must publicize the title for 30 days, providing other parties with time to register 'opposition'.
Ergilia, Diana and Julia Perez all expressed concern that logging interests would oppose their title, delaying the process and causing further frustration for a community that has been fighting so many years for their title.
Once they have their title, they plan to fight to protect the vast, intact Amazon forest that they own.
"We have always protected the forest," explained Diana. "Now that we got the title to be made a reality  we need the support to save our ancestral territory."
Threats to the Community
The community of Saweto is deeply concerned about their security in the next few weeks, as they expect illegal loggers will retaliate now that Saweto can legally expel them from their ancestral territory.
Margoth Quispe Anaya, the lawyer of the widows, explained that the holidays are particularly dangerous. "The loggers and the drug traffickers stop their activities. Then they tend to drink a lot. This is a dangerous combination given that the Ashaninka were just awarded the Resolultion."
The community is asking for a permanent police presence in the area over the next month, as well as the establishment of a military base in the border region—a demand shared by their Brazilian counterparts across the border.
Originally posted on 18 December 2014.
Update – with permission from Rainforest Foundation US.
The Ashaninka indigenous community of Saweto – Alto Tamaya was granted its land title on Friday, January 30th, 2015. The title will cover 78,611 hectares in the province of Ucayali along the Peru's remote border with Brazil.
The title represents a tremendous victory for the community of Saweto, which has been fighting for recognition of their community land rights for 12 years, a struggle that led to the murder of Edwin Chota and three other community leaders last September. Since then, the widows and family members of the assassinated leaders have been spearheading a national effort to carry on the fight for land rights, justice, and obtain government services for their remote, embattled community.
The border region is notorious for illegal logging, drug trafficking and nearly complete absence of the State, leaving native communities vulnerable to general lawlessness, particularly those who are actively trying to protect their customary land and natural resources.
"The sacrifice of Edwin cleared the way for other communities, who will be our allies in efforts to stop illegal logging," said Isaac Huamán Pérez, regional director of the Ministry of Agriculture in Ucayali.
Diana Rios, who accepted the Alexander Soros Award for environmental defenders on behalf of Saweto in New York last November, expressed gratitude for the title but warned of challenges ahead. "There is still a lot of insecurity in the region. Our community needs support."
According to indigenous representative organization AIDESEP at least 488 communities have applied for collective land titles throughout Peru. Hopefully, this title will be precedent-setting for the expedition of other native community titles.
International research has shown that where native communities' land rights are recognized, forests and other natural resources are better conserved. In the case of Saweto, the community now has legal authority to remove loggers and other illegal actors from their pristine rainforest.