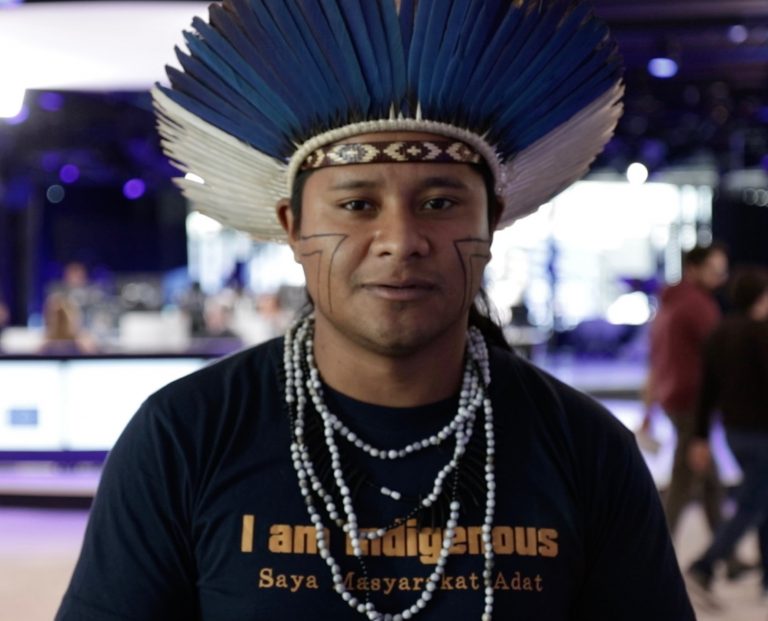 Karai Popygua (David)
Brazil
Karai Popygua (David) is a Guarani Mbya leader from the Indigenous Territory of Jaraguá. He is currently President of the State Council of the Indigenous Peoples of São Paulo (CEPISP) ​​where he works to ensure that the government of the State of São Paulo makes public policies for the indigenous communities of São Paulo. He has also worked as a teacher at the Jekupe Amba Arandu village school since 2008.
My work in the indigenous movement began very early at about age 16, because I always wanted to know how to help older leaders solve the problems our people faced.
Since 2013, I have been working with the national indigenous peoples movement in Brazil, alongside indigenous leaders from all over the country. We coordinate politically through APIB (Coordination of the Indigenous Peoples of Brazil).
My great motivation to accompany and be part of the struggle of my people was the teachings of the elders. I realized that I had a vocation recognized by the elders, our shamans, that through my speeches non-indigenous people would learn to respect and hear us more.
The focal point of our struggle is for the recognition of our territory. The Brazilian state insists on depriving us of the right to live on our land, which we need to maintain our culture.
My hope is that each day more indigenous people will be able to strengthen us further and seek more knowledge and unity so that together, all the indigenous peoples of Brazil have their rights guaranteed and recognized by the State.